Inexpensive & Healthy Trader Joe's Items I Don't Buy Anywhere Else
What are some of your favorite items from Trader Joe's? This store is great for unexpected finds, but my favorite part is the amount of healthy options you can find while sifting through the aisles. Here is a list of healthy staples I've found over time at Trader Joe's that are a total bang for your buck- I won't buy them anywhere else!
Almond Flour
I'm sure if you've gone out to buy almond flour you've noticed the price that can come with it. This is the best price I've seen for it's quality. I use almond flour in most of my baking recipes for a gluten/ grain free alternative!
Tahini
The secret ingredient in our home for healthy dressings, baked goods, and all the dips. This one from TJ's is creamy & oh-so affordable to keep up with.
Olive Tapenade
Many people don't know that most olive tapenade's or dips contain ingredients such as canola oil, sunflower oil, or vegetable oil which can be quite harmful to our health. I love this one from Trader Joe's because it's made with extra virgin olive oil, tastes amazing, and fits right in the budget!
Frozen Fruit/ Vegetables
For all your smoothie needs. Have you tried frozen cauliflower rice in your smoothie yet? (You should, I promise you can't taste it).
Salsa
Chunky, tomato-ey (is that a word?) and my favorite salsa of all time. The organic tomatillo and roasted yellow chili salsa or salsa verde is a delicious addition to tacos.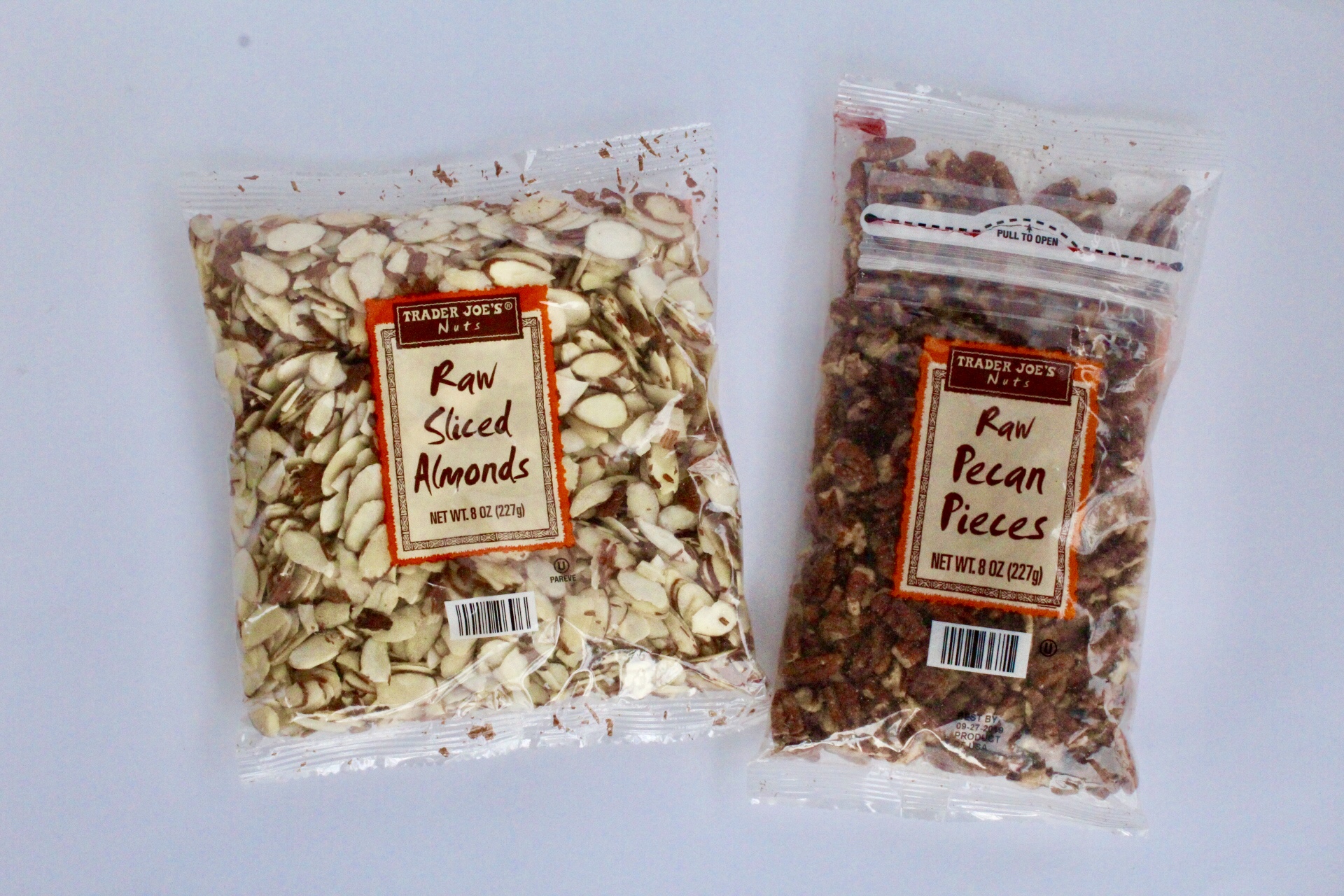 Raw Nuts/ Seeds
Everything from almonds, to brazil nuts, cashews, pumpkin seeds, or a mix of it all. Trader Joe's has a whole aisle of these goods which are conveniently inexpensive.
Chia Seeds/ Hemp Seeds/ Cacao Powder
These items add up big time in most grocers. Thankfully Trader Joe's knows how to do healthy. I love sprinkling hemp seeds over meals, add cacao to a batch of brownies, or simply chia seeds in my overnight oats- options are endless.
Virgin Coconut Oil
Great in any baked goods, pancakes, muffins, etc. Grab the coconut oil spray also!
Extra Virgin Olive Oil
My favorite brand of avocado oil and I was so happy when I first discovered it at my nearby TJ's. If you're not a fan of the taste of extra virgin olive oil in all of your cooking- give this a shot!
Raw Almond Butter
I enjoy this almond butter on just about anything- smoothies, toast, chocolate.. and the best part is I'm not spending $10+ every time I buy it. I have yet to try the crunchy but am a long time fan of the creamy version all the way. The only ingredient: almonds!
Cashew Fiesta Dip
The creamiest dairy-free queso dip that tastes exactly like the original. The flavors are perfect for dipping any chips or veggies- or try on top of nachos!
Coconut Aminos
The best gluten free, soy-free, and reduced sodium alternative to regular soy sauce. I love the flavor it packs in to a simple stir fry- thank you TJ's.
Avocados
TJ's sells them by the bags and I'm obsessed. I stock up every time. The teeny tiny ones are pretty adorable and perfect size for your avocado toast.