7 Clever Halloween Decorations You Don't Have to Go Shopping For
Eight days left until Halloween! How are you celebrating this year? Sam and I plan to dress up as Yellowstone characters, and hand out candy to cute trick-or-treaters. We also had big- wildly different ambitions for a Halloween display. I, going the route for a more "chic" presentation, was shut down by a new scarecrow from Home Depot named Jacky. (You can't see him in this photo because I cropped him out). Jacky's not so bad, but once we started diving in to more decorations, we realized how quickly it can add up (especially when you're only putting it out one time of the year!)
Now that the holiday is a little over a week away, I decided to look for other ways we can incorporate clever Halloween decorations around the house. Since there's not much time left to actually go shopping (Christmas decor is already on the shelves!) I took to searching online, around the house, and easy DIY projects.
I was pleasantly surprised with the amount of creative decor that's out there. Some of these I've already used for a few years, some were definite "aha" moments, but the best part is that they're all extremely effortless, and foolproof. And now I don't have to worry about anymore surprise scarecrows.. Scroll on to see the full list of last-minute clever Halloween decorations. Bonus: you won't have to go shopping…
I always have one or two of these (okay maybe not the hay bales) laying around the house. Because I love using them throughout the year for a plant display, I repurpose them for the exact same thing in the Fall! Place your array of pumpkins, mums, string lights, or other spooky decorations on top to give them a little height, and help in standing out.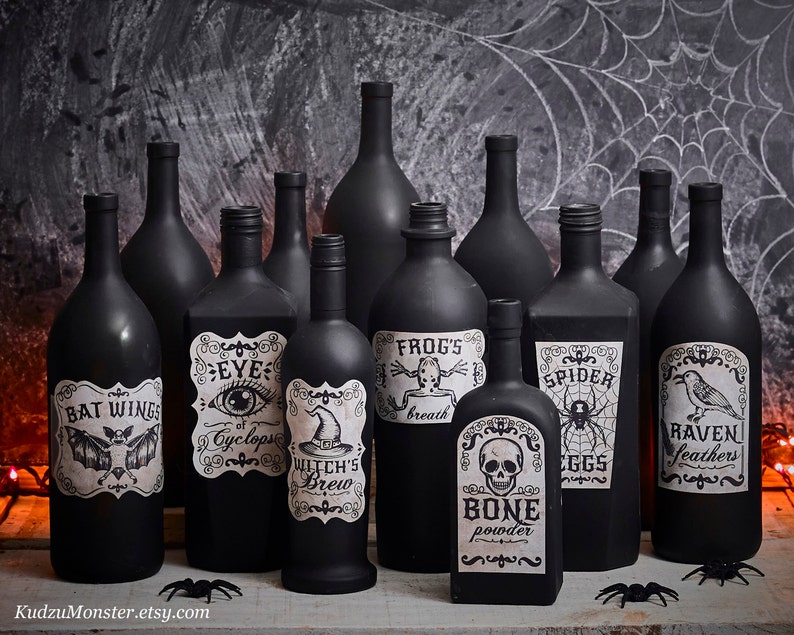 I was scrolling through Etsy's Halloween shop the other day when I came across printable- or orderable- liquor bottle labels! Simply salvage any old (or new) liquor/ wine bottles, maybe give them a quick paint, and stick on the labels for an awesome display. (P.s. don't forget the witch's brew, it's a classic).
What's Halloween, even Fall, without endless candles anyway? I'm definitely one of those people who saves their old candle jars, for no reason other than they're too pretty to throw away. I must admit my collection was (still is) starting to add up, but I finally cleaned out the wax for a few of them and replaced with small tealights. Adding long candlesticks with holders are also iconic for a Halloween setup!
Between Halloween candy, candy trading, oh and then more candy on top of that- why not throw in some extra treats? Even if you don't eat them, caramel apples are still a pretty setup for the holiday table or snack bar! Click the link for an easy step-by-step recipe.
I always wondered how and where others got these "Halloween books" for decoration. Another aha moment (on Etsy) is when I saw you could print them, for free. OR, order them– I find this one more convenient. However, click the link in the photo and there's another easy step-by-step for how to create these awesome covers at home by yourself! (All you need is a few books you're not reading).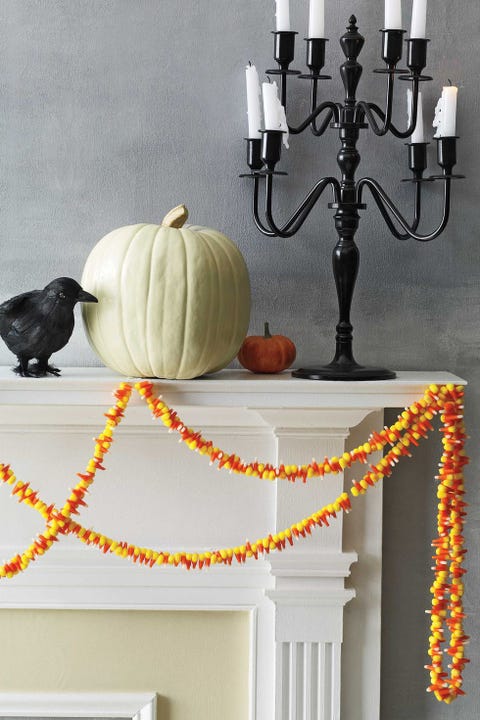 I especially love this idea if you have kiddos at home. Good Housekeeping says: "string candy corn pieces together to form a sweet-as-can-be garland that can be draped over windows, door frames, and mantels- if you can get through the DIY without eating the entire bag, that is."
Since you're probably already cooking at home with seasonal produce, display it on the menu that night. Bunches of rosemary, pomegranates, small squash, purple grapes- all colorful ways to incorporate Halloween colors on the table!