5 Gym-Alternative Exercise Programs You Can Do At Home
I am a total sucker for a good at home workout. Roll out of bed, throw on some yoga pants, and warm up all without stepping foot in the car (heck yes). Although I do love the occasional gym session, hot yoga, barre, or pilates class, I'm sadly having to put those on pause with the Coronavirus outbreak. Now that we'll be at home practicing our social distancing, we're taking this time to get accustomed to a new routine. One that will include at home exercise programs, new games, and starting our backyard garden project.
It is truly saddening seeing the state of which our world is currently in. However, without furthering the sorrow that many are feeling, this is also a time to shed light on on our families, our health, and our homes. Amidst the chaos, lean in to each day as it comes, adapting to this new (and not permanent) routine. For me, this time is especially important to get outside for a walk, move my body, and cook up nourishing meals (plus all the #healthy cookies).
With that being said, I encourage you to move your body in some way during this time. Since we're all having to put our gym memberships on hold, there are endless options that can help you still get the workouts you crave. Hold yourself accountable, try something new, and if you don't like it- well, there's free trials anyway!
HIIT Lovers
The ultimate #sweat program for all types of levels. Kayla Itsines is the it girl of the fitness world. You definitely won't be missing the gym with her simple, effective workouts. They require minimal equipment (think light dumbbells, bench, optional bosu ball) and the sweat will be dripping off in exactly 28 minutes. The app also offers healthy recipes, and an entire encouraging community to help you push through.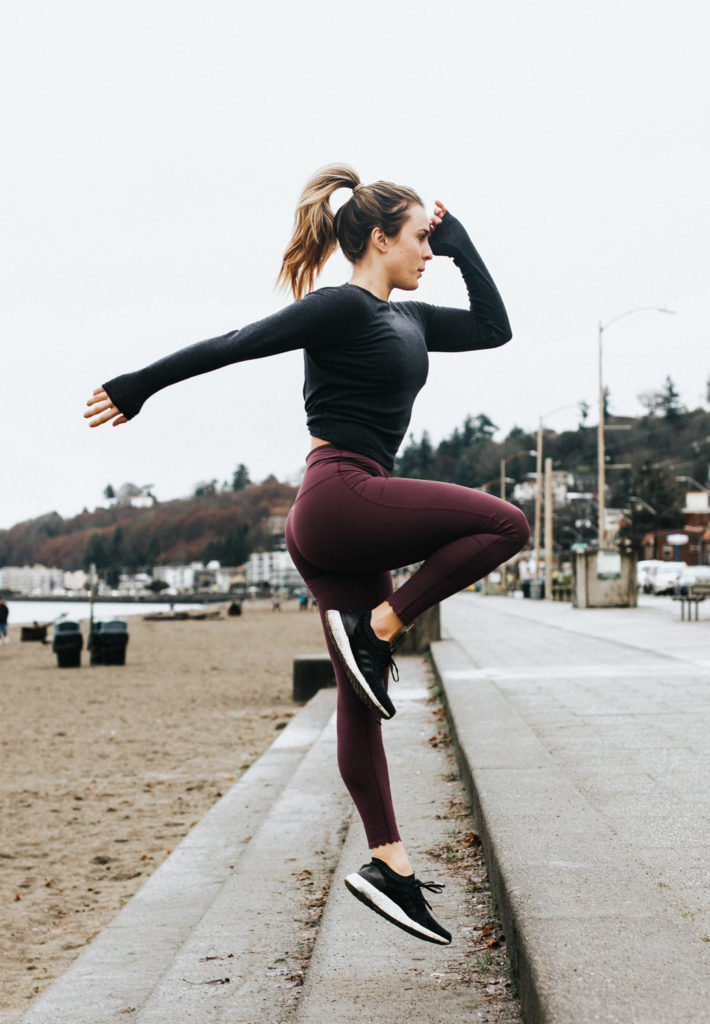 Certified personal trainer, registered dietician, co-founder of Toast Society, and mega Instagram influencer, what doesn't Rachael do? Also a fellow Seattleite- she knows that keeping a set exercise routine in the rainy months is crucial to a good mood, and a good sweat. This program encourages fun exercises to strengthen your entire body with just a few basic equipment pieces. Which can easily be optional if you don't have all of them at home. The best part? Each week only costs $6.99 and you'll be looking forward to your workouts a whole lot more.
Yogi's
For this free at home yoga session, Adrienne sheds a light on realness, and throws any unwanted judgement out the door. With over 6 million viewers on her online community, she offers a wide variety of yoga videos, 30 day challenges, and even event opportunities. She puts out an unmistakable connection with her viewers, ensuring that yoga really can be for anyone, as long as you show up. Yoga lover or not, your mood will be boosted, and your body will feel incredible.
If you're looking a new method to ease anxiety, improve sleep, or simply unplug, Calm is probably calling your name. This app teaches the true essence of meditation by simply breathing and connecting with ourselves. Try out their free trial to ease your way into it, then work your way in at whatever pace you'd like. Even choose a quick session after a morning workout for a more peaceful rest of your day.
Low Impact Burner
My go-to whenever I need a change in regimen, or a simple mindset shift (aka pushing through those lower body burns!) Barre is a low impact exercise for those looking to set aside the burpees and connect deeper with the muscle groups. Start with Barre3's 14 day free trial that offers classes anywhere from 10 minutes to 1 hour. Each instructor voices a soft tone that will help motivate you through long holds, pulses, cardio bursts, and even a few balance tests. This workout is the real deal.